News and Events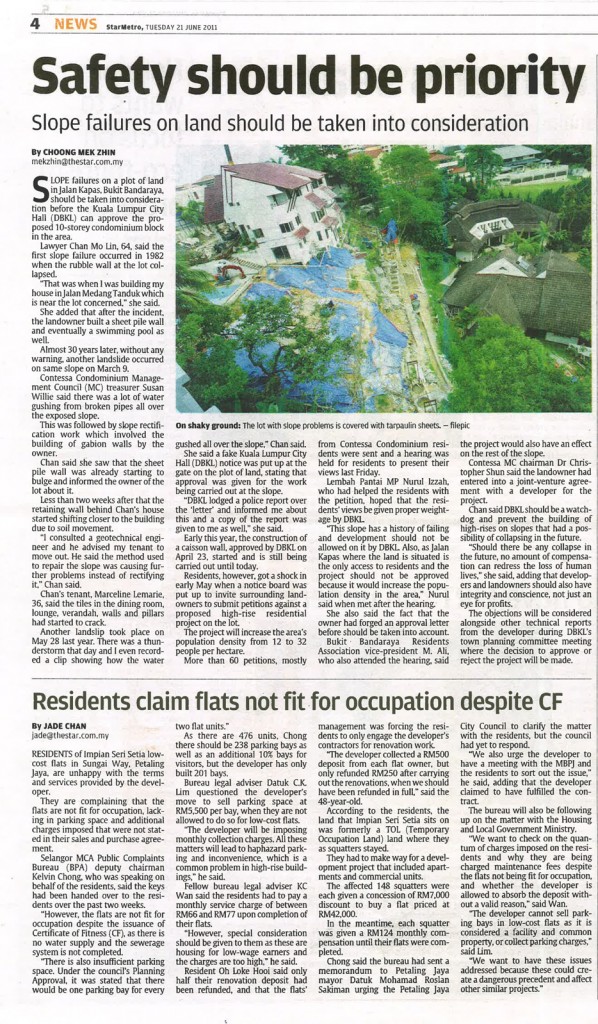 SlopeWatch wishes to extend its condolences to those who perished in the Cameron Highland landslide yesterday and our empathy to all those who were affected.
Call for new federal agency on hillslope matters
Posted on 10 August 2011 – 05:28am
Last updated on 10 August 2011 – 07:39am

A picture of the aftermath of the landslide.
The site was visited by Rural Development minister Datuk Seri Shafie Apdal. BERNAMA
KUALA LUMPUR (Aug 9, 2011): In the wake of Sunday's deadly landslide in Cameron Highlands, the Institution of Engineers Malaysia (IEM) said there is a need to set up a new federal agency which advises local authorities on all technical matters related to hillslopes.
It said the new agency should be tasked with the approval, control and monitoring of the safety of all future hill-site development.
"The agency should also ensure that the guidelines for hillslope infrastructure are followed strictly so that public safety is not compromised," it said in a statement today.
The landslide at the Orang Asli settlement in Kampung Sungai Ruil in Tanah Rata, Cameron Highlands, killed seven people.
IEM said long-term measures, such as constant monitoring of unstable areas and regular maintenance of the land structure, both natural and built, needed to be carried out consistently.
IEM urged all approving and enforcement agencies to adopt an adapted version of the slope classification system used in Hong Kong to ensure consistency and ease of communication.
In addition, it called on the government to adopt and implement the recommendations made in the IEM position paper on hill-site development which was submitted to the relevant authorities in 2000, 2004 and 2009.
"IEM is willing to work together with local authorities and all the relevant government agencies in providing technical assistance towards a safe and environmental-friendly development," it said.
IEM believes that landslides could be avoided or at least mitigated if all necessary precautions were taken. – Bernama
Cameron Highlands Landslide: dead, 2 injured
CAMERON HIGHLANDS: Four women and three men died while another man and a woman were seriously injured in a landslide at the Sungai Ruil Orang Asli settlement in Brinchang, here yesterday afternoon.The dead were identified as Normadiah Lasik, 69, Ali Hassan, 50, Jaafar, 49, Mohd Ikbal Jaafar, 15, Sara Gunung, 37, Norma Gunung, 51, and Yusnizan Yusof, 22, while the two seriously injured were identified as Bah Anjang Besar a/l
Anjang, 39, and Serry Priary a/p Suri, 15.
In the incident at 5.45pm, heavy rain that occurred since 5pm resulted in a mudslide and landslide which buried three houses at the Hardcore Poor Public Housing Project in the hillside settlement.
Cameron Highlands OCPD, DSP Wan Zahari Wan Busu said the mudslide and landslide occurred about 100 metres below the highland and buried the three houses.
"All search and rescue operations had been stopped at 1.50am. However, police are still maintaining security operations in the area," he told reporters at the scene early this morning.
He said the last victim was found at 1.20am.
All the deceased in the incident had been taken to the Hospital Sultanah Hajjah Kalsom for a post mortem while those seriously injured were taken to the Hospital Raja Permaisuri Bainun, in Ipoh for further treatment, he said.
Wan Zahari said the two victims who were injured were reported to be in stable condition.
"Two hundred and forty-eight personnel from the various agencies including the police, Fire and Rescue Department, the SMART team and Rela were involved in the operations at the scene of the incident," he said.
He said all the 60 families living in houses which were in the area had been evacuated to the Brinchang Multipurpose Hall, here.
A check by Bernama at the Brinchang Multipurpose Hall at 4.30 this morning found that the evacuation of all the families by the Cameron Highlands District Welfare Department was still going on.
A spokesman of the Social Welfare Department said the families were required to stay there temporarily until the status of their homes in Sungai Ruil had been confirmed safe for occupation. — BERNAMA
Special Shout Out
Thanks to Tan Sri Ramon Navaratnam, our newest SlopeWatcher, for his kind donation to our organization. It'll be used towards future awareness events to rural as well as urban communities.
SlopeWatch Community Program – Landslides and Slope Safety
Date : 24 July 2011 (Sunday)
Time : 9.30am – 11.00am
Venue : Pusat Khidmat Komuniti Bukit Antarabangsa
(Formerly known as Al-Kaafah Food Court)
All residents at Bukit Antarabangsa and Ukay Perdana are invited.
Refreshment provided.

Landslides and Slope Safety
Catch Senior Director of Slope Engineering Division, Jabatan Kerja Raya; Dato' Prof. Ir. Dr. Ashaari Mohammad
discussing about slope safety issue.
Channel : TV3
Program : Buletin Utama (Aduan Rakyat Segment)
Date : 12 June 2011
Time : Between 8.00 -9.00pm

SlopeWatch on RTM1
Catch us tonight on national television:
Channel : RTM 1
Program : Dialog
Time : 10.00pm
This program will be discussing about landslides and slope safety with the Senior Director
of Slope Engineering Division, Jabatan Kerja Raya; Dato' Prof. Ir. Dr. Ashaari Mohammad.
Notice: Road closure
Where : Jalan Bukit Antarabangsa – Jalan Wangsa
When :  30 may 2011 until 3 June 2011
What time : from 10.00am -5.00pm
Reason : Slope strengthening and stabilisation work.
Please use alternative route via Ukay Perdana.
Who we are
SlopeWatch is a community program run by residents who monitor slopes in their neighbourhood for signs of landslides and conduct simple maintenance of slopes, such as clearing of overgrowth in drains.
By participating as SlopeWatchers, residents become the "eyes and ears" for the local authorities. Because residents are familiar with their surroundings, they are the best observers of any changes in the slopes around their homes.
By working together with federal slope agencies and local and state authorities, communities can take a risk-reduction approach to hillside living.
Public awareness and education sessions help residents become more knowledgeable on safeguarding their communities.